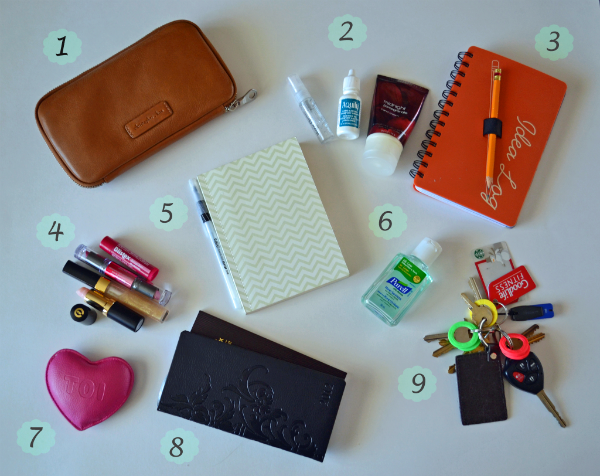 Christopher Kon wallet
I purchased this zip wallet from a local shoe store last fall. I love the soft leather and the
abundance of space inside without the risk of losing it's contents!
[Find it here]


Can't go anywhere without these 3 things
a) Spray bottle with lens cleaner for my glasses
b) Aquify eye drops [find it here]
c) Bath & Body Works pomegranate hand cream


Idea Log
Book for jotting down inspiration, brainstorming ideas, and tracking project process.
[Find it here]


Lip balms & lip glosses
a) Blistex berry lip chap with SPF15 [find it here]
b) Covergirl blast flipstick in "pucker" [find it here]
c) Chanel gloss with gold sparkles [find it here]
d) Elizabeth Grant moisturizing stick (received this through a GlossyBox sample- review
coming up later this week)


Notebook & Bic pen
Chevron notebook from Indigo (upcoming post on my love for this pattern).
[Find it here]


Purell hand santizer
It's best to eliminate germs in between clients or right before picking up a snack.


Heart Paperweight
This weight (~1lb) is a little tool I keep on hand when feeling a little stressed- the
proprioceptive feedback has a calming effect for an over-stimulated nervous system.

[

Find it here]


My daytimers
I keep 2 separate agendas to track hours and travel for my jobs: OT work and contract
blogging.


Keychain
The keys are colour coded so I can keep them all straight! (Unfortunately none of them unlocks any safes or bank vaults.) On my keychain I also have my memory stick, gym membership card, a Starbucks gift card, and usually, but currently missing, a mini tape measure (a handy OT essential)

10.
Vichy Thermal Water
The one item missing from the photo- this product is great for combating fatigue
or dryness (especially in the winter).
[find it here]