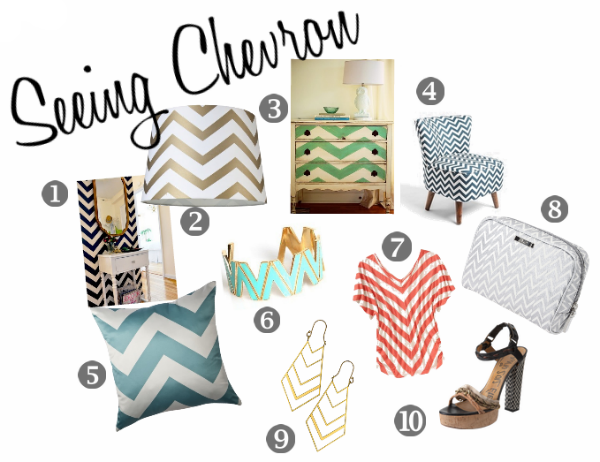 Chevron
(or the zig-zag pattern) has been an increasingly popular pattern emerging in the last few months when it comes to home decor, jewellery, clothing, bags- you name it. Initially this pattern reminded me of racing stripes on my spandex from my rowing days, but before too long I fell in love and could appreciate the simplicity of a pattern that works in many colours and is easily integrated into so many textiles and designs. It's eye-catching but not too busy that it distracts from or clashes with other objects or patterns.
You may have noticed from my post the other day that my purse contents included a
chevron notebook
. I also have intentions to
paint some of our plain white mugs
with a bright and colourful chevron pattern! Let's just say that I also have plans to dabble in the field of necklace making- and
a chevron pattern like this
is definitely on my inspiration list of designs to recreate.
Follow on Bloglovin' | Follow on GFC | Follow on Facebook