So it's about time I got business cards for this blog, especially with the
East Coast Fashion Bloggers (#ECFB)
meet-up/conference happening next month in Halifax. I'm definitely looking forward to meeting some of the lovelies I've had the chance to get to know through their blogs and twitter-
and
I'm looking forward to getting together with some of the gals I don't get to see as often! We've come to discover there is just under 30 of us [fashion bloggers] in the Atlantic Provinces.
Also, it's just a good idea to have a card on you if your blog happens to pop up in any conversation (rather than having them memorize the URL to go check out later). My preference for business cards has always been
Moo.com
- it's pretty easy to design your cards, the product is good quality, and the price is fair. Typically you have to wait a few weeks for shipping (at least to Canada), so it's a good idea to get them before you realize you wish they were in your hand- unless you want to pay the steeper price for a rush order.
With Moo.com, you can either upload your own images/designs or pick a favourite from their many templates. I'm leaning toward a custom design, but I'm not sure how I feel about the drafts I've come up with below. I want the card design to have a minimalistic feel but still catch your eye for being unique.
I'd really love some honest feedback on the custom options below. These are just the cover, the other side would provide my name, blog URL, and contact info.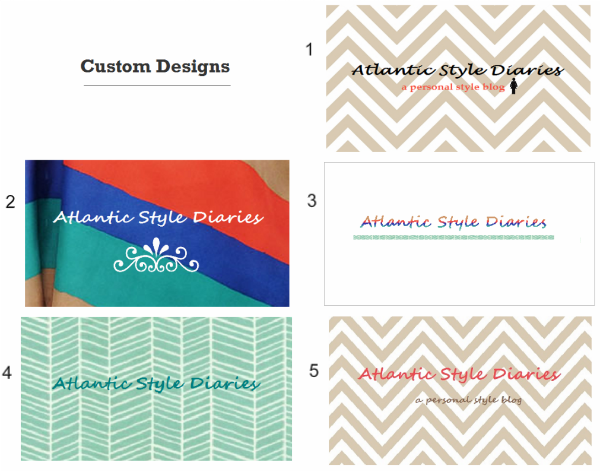 Please let me know which is your favourite in the
comments
below! Or, if you have a suggestion to modify and improve the options above, I'd also really love to hear your thoughts!
If you're looking to design your own business cards, for blogging or otherwise, I'd definitely recommend checking out
Moo.com
.
*This is not a sponsored post for Moo.com but my just personal opinion and preference for this company. I've ordered cards from them in the past and have been really happy with the results. Links to Moo.com are referral links- by clicking them and then choosing to purchase your business cards from this company, I would be compensated with a modest credit towards their products.