With the leaves brilliantly changing colours, there's only a matter of time before the trees are bare and I miss out on fantastic fall back-drops for outfit photos.
As I mentioned to my Saint John blogger pals (
Melissa
,
Julia
,
Emma
&
Barb
) over coffee this week, I feel like putting myself entirely together for an outfit photo is a task in itself. Typically, I'm running out the door with a look that I wouldn't feel is complete- whether my make-up isn't complete, my hair is mess tied back, or my shirt isn't pressed. Often I'd be happy to shoot a photo of what I'm wearing, but as I said to
Kate
over our dinner date earlier this week, setting up my tripod or making sure my make-up is camera suit-able makes outfit photos feel like a chore in the world of a girl
on-the-go
!
But until I get back on my feet with outfit photos, which I dearly miss doing, I'd like to share what photos I've been collecting for
fall outfit inspiration.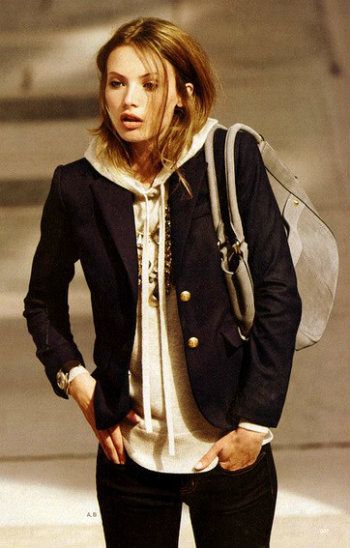 Choosing an outfit must meet one criteria above all else: it's comfortable!
But comfortable hardly needs to be associated with my favourite at-home, hide-away uniform of yoga pants and a zip-up hoodie. What I like about the above outfit is how super-casual is mixed with a bit of prep by throwing a blazer over top. This takes me back to my deep-in-the-thought exam study days at university. I often threw on a pair of jeans and then a blazer over my hoodie just for additional layer on my walk to the library.
Continuing with casual-chic ways to style a blazer...
Nothing is more classic yet gives off a causal-cool vibe like a
blazer
paired with a blouse and denim. (Although I'm not loving the bold zippers on these particular jeans.) I do adore this bowler-esque hat and and shoulder bag that contribute to the boho feel of the outfit. Only problem with me and hats- my [sometimes big] hair and unexpectedly large head often don't fit nicely into one-size-fits-all hats.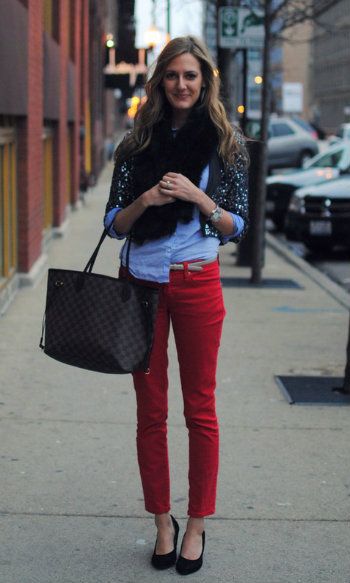 There's nothing I love more than a pair of
coloured denim or jeggings
.
It's an easy way to add a splash of colour to a simple outfit- traditionally the brighter colours have been reserved for the top half of an outfit- at least by conservative terms. These days I like to throw a bold hue on bottom and go for something quick, easy, and neutral on the top- I just let my legs do the talking. I'm always
layering up
so I can avoid having to wear a full coat- so far I've evaded wearing a winter- or even fall- coat by choosing heavier sweaters and cozy scarves, as needed.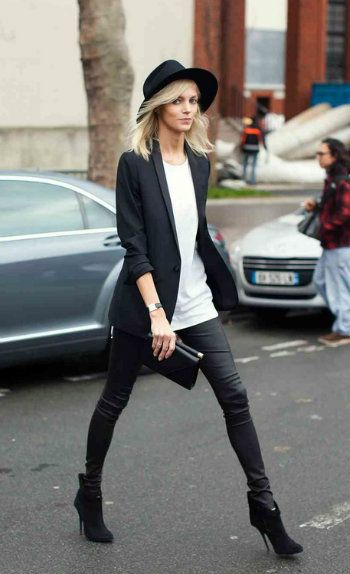 This outfit is fairly uncomplicated, but to me, it says ultra chic.
Long-enough tops that can be paired with leggings are a wardrobe staple of mine. Too many are guilty of committing the ever-so-common fashion faux pas by sporting leggings or tights with a regular length top- remember ladies- unless you are [even so slightly] covering your bottom and crotch in tights, your outfit should stay in the comfort of your own home.
I do love a an oversized or loose fitting top over a pair of skinny pants.
I especially enjoy the monochromatic simplicity of this ensemble- the stripes break it up from becoming too bland. I find the bulk of wearing a scarf wrapped around my neck needs to be balanced with a top knot or bun.
I collected these photos as part of outfit inspiration
not because they are daring, cutting edge, or novel- but because they are comfortable, cute and appropriate for a wide variety of occasions or settings. Where my mornings consist of getting out of the house at the last minute,
accessible fashion
is my answer to looking put-together.