I'm faced with that daunting question every-time there's a shower, potluck or party to go to-
what do I make?!
I'm more of a "grab and go" sort of girl when it comes to food so I don't spend much time in the kitchen unless it's for a special occasion. One of my
New Year's resolutions
was to make more meals at home and to try new recipes. I've been eating at home more often, which is a definite penny saver and I've been pinning
lots of ideas,
but I haven't been as great on the follow through....
yet
.
Last month I went to a friend's baby shower and made this combo of
cinammon pita chips and fruit salsa
. My friend Pam had brought them to my house previously and they were a memorable hit! They went over well with the baby shower crowd as well.
Here's how to make both the chips and the salsa:
Cinnamon Chips
You're going to need the following ingredients:
8-10 flour tortillas
Butter-flavoured Pam (cooking spray)
Cinnamon
Sugar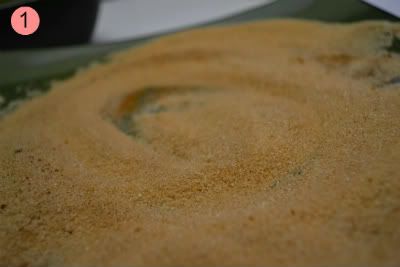 First, I sprinkled a generous mixture of cinnamon and sugar onto a large plate.
(You'll need less cinnamon than sugar to get the right ratio.)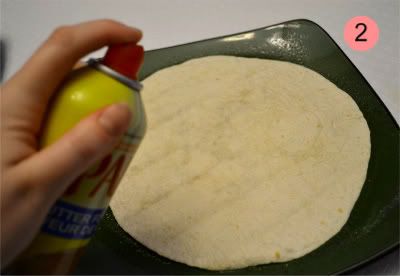 Spray one side of the tortilla with the butter flavoured Pam
(much easier and quicker than buttering each tortilla).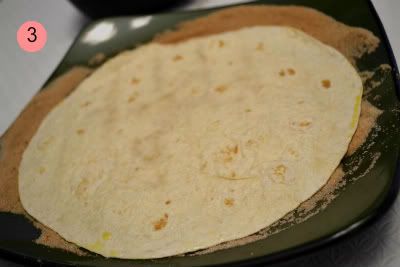 Place the side covered with Pam on top of the cinnamon sugar mixture.
Ensure the tortilla is well-covered and brush off any excess cinnamon sugar if necessary.
I did some tortillas with one side covered with the cinnamon sugar
and some I did with both sides covered.
I found that you only really need to do one side.
The two-sized chips were a bit more messy to handle and if you only coat one side,
it saves calories!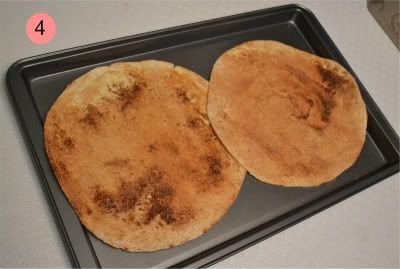 Place 1-2 tortillas at a time on a baking sheet
and put in the oven for roughly 10 minutes at 350 degrees.
After letting them cool for a few moments, cut them into triangle slices with a pizza cutter.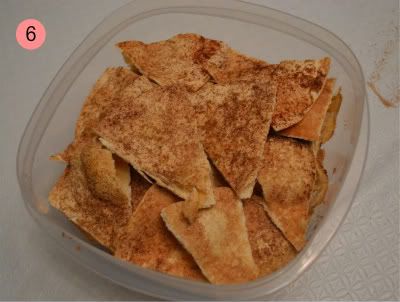 Store them in the container of your choice.
Let them completely cool before covering them up and putting them away- otherwise they'll go soft.
I transported my chips in the bag the tortillas originally came in.
Fruit Salsa
I followed
this recipe
, but just switched a few things.
You'll need the following ingredients:
2 kiwis, peeled and sliced
1 golden delicious or red gala apple
1lb of strawberries
8 oz of blueberries
3 tablespoons of any flavour fruit preserve (or just use jam!)
Another option you could add:
8 oz of raspberries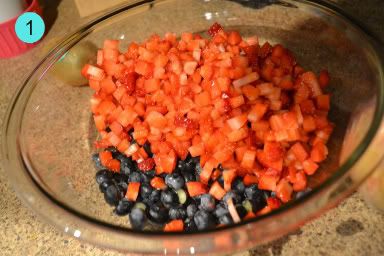 Dice up all your fruit into wee little pieces.
The blueberries were on the larger size, so we cut them in half .
(I had my husband's help on this while I was making the cinnamon chips)
Combine all the fruit pieces into a large bowl.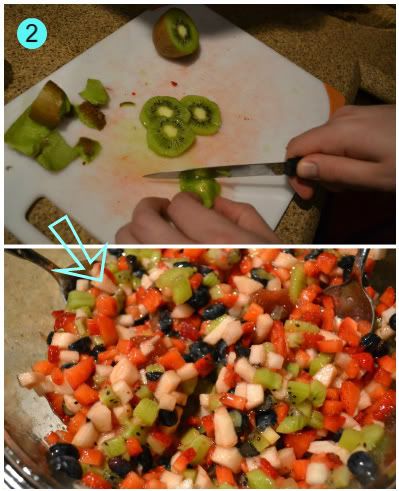 In the photos above, that would be B's hands chopping up the kiwi.
The second photo is what the mixture looks like with all the fruit in the bowl.
As I mentioned above, the original recipe suggested adding fruit preserve,
but all I had in the fridge was Smucker's strawberry jam.
So I scooped 2-3 tablespoons in with the fruit and mixed with 2 spoons
(tossing it like a salad until evenly mixed in).
I was warned by my friend Pam that the salsa can get a little runny
so I put the fruit salsa in a strainer (white) over another large bowl (green).
I left it there to drain for 10-20 minutes before packing the salsa up.
This just got rid of the extra juice so it would be easier/less messy to scoop with the chips.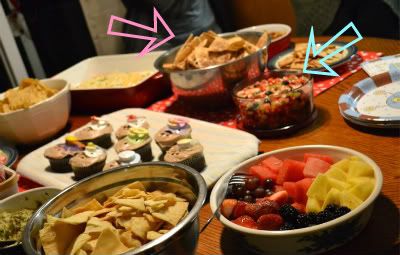 And there you have it! Easy as that.
The above photo is the cinnamon chips and fruit salsa on the table
with the other goodies at the baby shower.
Just make sure you leave yourself enough time to make this.
I think the whole task (chips and salsa) would take about 1.5 hours.
Thankfully I had B's help otherwise I'd never have made it to that shower on time!