As a fair complexioned gal, I've tried multiple ways to add a healthy looking glow to my skin without endangering the health of my skin or looking like an orange. Being as pale as I naturally am in the winter and sans make-up, please often comment on how tired or unwell I look at times. Some ladies have a china doll complexion that they carry off to a T and then there are others of us who just want a bit of a glow to help cover our red spots or dark under eye circles without needing to cake the make-up on.
I've tried them all: lotions and gels they leave an oily feeling residue, spray-on products that you need to very aware and precise with, and tinted moisturizer. Of the previously mentioned products, I have actually liked
Marcelle tinted lotion
, but you have to be careful about blending and how much you use- you don't want your skin to be another colour than your neck! I like the idea of a non-greasy, skip-the-strongly-scented product that would give you a little colour, gradually but effectively (without making you orange).
And a few weeks ago, I found that product for the very 1st time. A couple of months ago, Catitlin from
Style Within Reach
had recommended
Tan Towels
. It was the Marcelle version that I had come across in Shoppers and decided to take the plunge: 15 towels (1 does the whole body) ranging from $16-$19.
The sheet looks about the size of a baby wipe or make removal towelette. As per directions, you apply the self-tanning cloth to the whole body and wait to it to dry before putting your clothes back on (which is really only a minute or so). Other self-tan products I would use at night or a few hours before showering because I couldn't stand the greasy feeling they left or their strong scent. With
Marcelle's self tanning cloths
I can use them right after a shower and then go right on with my day.
I picked up these
Marcelle I Bronze cloths
at Shoppers but I'm use you could find them at other drugstores that sell Marcelle skin care products and cosmetics.
Have you tried these before? What is the best tanning product you have ever used?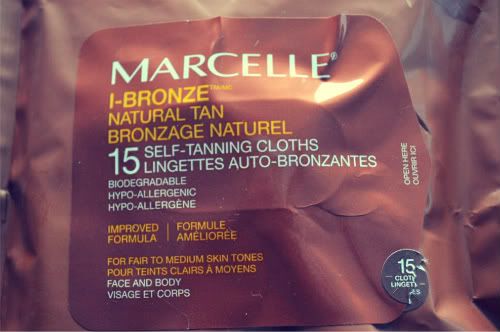 * This blog post is not an paid advertisement. Above is just a reflection of my opinion on this product.
Follow on Bloglovin' | Follow on GFC | Follow on Facebook
Please leave a comment below. I would really like to hear your opinion on this product or any other self-tanning products you've used!