Following wrap up of multiple fashion weeks last month, I shared
my favourite Fall 2012 runway looks
-
and
combinations I'd like to recreate come fall- in my last post. Today I wanted to make a few predictions on fall trends.
I've been been pinning select looks from different designer collections recently shown in New York, London, Paris and Milan for ideas.
Since designer wear is coveted and owning couture isn't accessible or affordable to many fashion-lovers (such as yours truly), elements of what the heavy hitters of design and fashion put on the runway is often imitated in later-produced apparel and accessories. Essentially, these fashion houses are the early trend setters other brands look to for inspiration and what's going to be relevant in a coming season. I'm always interested in knowing in advance what's fashionably relevant for my wardrobe in an upcoming season.
Here's some of the new and continuing trends I'm guessing we'll see come September:
1. Peplum
- this
"flounce"
of material, usually extending from the waist and covering the hips is already popping up in spring apparel and current blogger outfits. Many designers incorporated this feminine element into their own design for Fall 2012.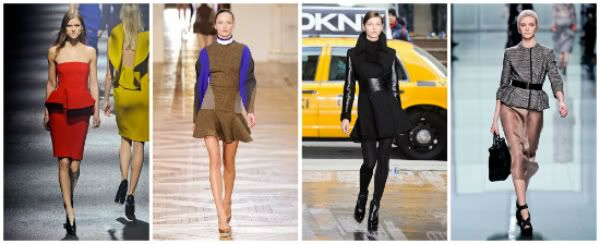 Peplum (Left to Right): Lanvin, Stella McCartney, DKNY, Christian Dior
2.

High Collars

-

raising the neckline, many designers incorporated detached collars in extended the neckline in the garment to make a statement. After popularity with detached collars and collar necklaces in previous seasons, this seems to be the new take on emphasizing the collar. I'm no fan of the turtleneck, but

I would definitely do a detached fur collar or a high, structured neck

on a coat or vest.

High Collars (Left to Right): Fendi, DKNY, Jill Stuart, Givenchy
3. Belted Coats

-

it's nothing new to have your coat or trench come with a matching tie or belt but

many of the waist cinchers on recent runways seem to

make a statement on their own. It looks like

grabbing a colourful, metallic or decorated belt to pull around your waist, over your coat might be a new twist for fall and winter.

This makes fantastic sense

in a climate like Atlantic Canada where we often have to cover up our favourite pieces with jackets and coats come the colder seasons. Why not get fancy on the outside?

(Left to Right): Calvin Klein, Burberry Prosorum, Missoni, Chanel
4. Leather Accents

-

Leather pants, dresses, and coats are certainly relevant in women's attire as of current, but it seems that

smaller additions of leather- like

just the sleeves of top or a panel in the middle of the torso will likely be showing up in our fall wardrobe selections.

My personal favourite is

the idea of a black or camel blazer with leather sleeves!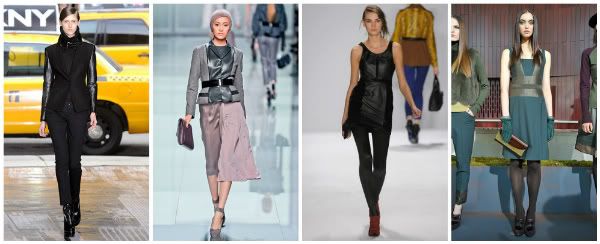 (Left to Right): DKNY, Christian Dior, Rebecca Minkoff, Rachel Roy
5. Velvet
- velvet skirts, pants, and blazers were popular among a number of designer collections.
This luxe, soft material is
something I've been waiting to see more of. I wanted a pair of velvet pants or leggings last year but didn't see anything that was
just right
. This is a fabric that's tricky- if the outfit isn't styled right, the velvet could make the outfit look more tacky than fashionable. But it's an idea I'm definitely open to!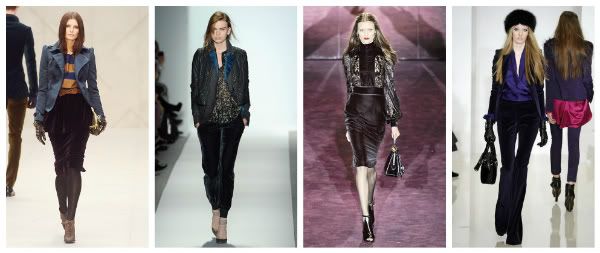 (Left to Right): Burberry Prorsum, Rebecca Taylor, Gucci, Rachel Zoe
6. Monochromatic Black
- or monochromatic outfits in any colour really. We're been seeing monochromatic suits as well as same-colour pairings with tops and bottoms this spring in brights and pastels. Looks like we may see the same trend come fall- with black and bright hues.
As dull as a completely black outfit sounds,
the key appears to be mixing in different textures!

(Left to Right): Lanvin, J.Mendel, Donna Karan, Michael Kors
You might also wonder: what (that's already in my closet) will be still relevant come fall?
There are many already hanging in your closet or wardrobe that will still have your outfits on-trend come fall. It can be stressful- especially as a blogger who posts your outfits- to keep up with the revolving door of trends. I'd go broke if I bought even a fraction of everything that ends up on my wish-list. The way to keep items relevant is finding a new way to wear them or a new way to accessorize them. And you're pretty safe with some go-to classic garments that never go out of style (i.e. the white tee, a black blazer, etc.)
According to the runway, I'm predicting that Fall 2012 fashion will still feature these elements:
Faux Fur

Gold Glam

- gold accessories, gold sequins, gold hardware: they've all been popular through the fall into winter this year. That gold clutch or sequin skirt you've loved will likely still be a go-to piece! Gold trims and materials seem to outnumber silver by far when it came to metallic touches on the runway.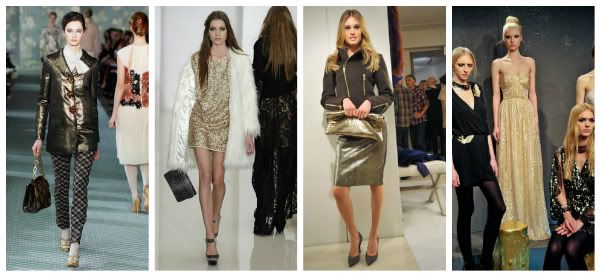 (Left to Right): Tory Burch, Rachel Zoe, Elie Tahari, Erin by Erin Fetherston




Bold, Bright Hues

Colour Blocking

- it seemed to be a big hit and really hit mainstream last year. Pairing bright, solid colours that either complement or standout from each other have presented some of the most interesting ensembles visually.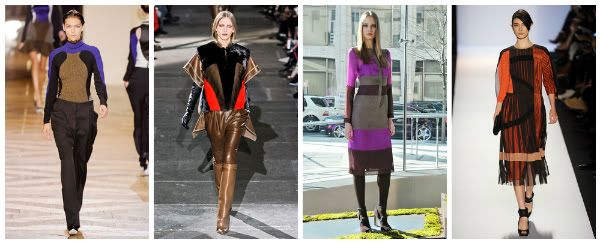 (Left to Right): Stella McCartney, Givenchy, Rachel Roy, BCBG Max Azria
What are your thoughts on my predictions?
What are some of the trends you're betting (
or hoping!
) we'll see come Fall?